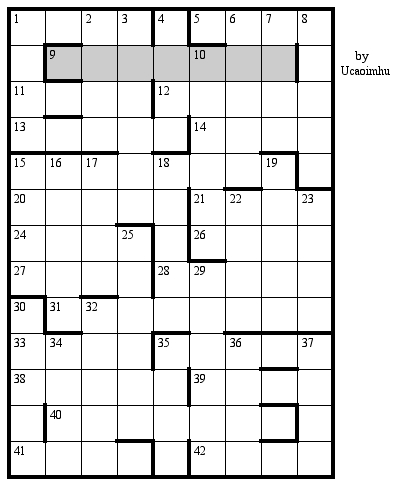 Starting my blog required completing all of this:
Learn to hide extra text using cuts.
Produce pithy title.
Define my userpic.
Make friends list.
Avoid you-know-whats.
Clues where you're doing 4, 3, or 2 (in gray) have no straight definitional part; lengths on clues where you must do 5 are for the entry word after you change it, and not at the start.
Of the remaining clues (that is, two-thirds of them), half have a letter omitted; as said there in 1, all these "cuts" conceal a text, which actually tells how this intro should now be reread . . .
ACROSS
1. Ucaoimhu, heartlessly, even includes word for "gas company employees" (4)
5. Orange drink found in space left for mall flier (4)
9. Comedian Stewart going around ancient city with Gore (7)
11. Comedian Foxx flipped over topless stranger (4)
12. Rote employed when shipping tin and aluminum (5)
13. County inhabited by English people of assorted sexes (5)
14. Unhappy about first of umberless little rocks (4)
15. Writes software to keep a room rotating (8)
20. Cover one raccoon-like mammal (5)
21. Asps let out by those who find things one owns (4)
24. Sleep with leaders from Concord, Chicopee, Worcester, Boston, etc. (4)
26. Ucaoimhu elegantly includes an African river (4)
27. Iodine isn't kept in buckets (4)
28. Merle chopped up the firs hit by The Bobbettes (2. 3)
31. Attacked one who's finally traveled, using a bat (8)
33. A rights group is a social group, mostly (4, abbr.)
35. Sharp editors will catch the extraneous letter in "xylopghone" (5)
38. Don't keep assuming Odyssey's greatest character is not tau (5)
39. Garland worn by old fifth-century Pope (3 1)
40. Learns about the French people who undo the effects of wonders (7)
41. Every other part of Amber's son's roomie's cell's concave structure (2-2)
42. Okay, you I see (4)
DOWN
1. Vertebrate body segment seen in some tamer encyclopedias (4)
2. Gus, by screenwriter Serling and athlete Carew (4)
3. Stun Ed when dancing in the last modest outfit (6)
4. Coach has date (4)
6. In North Iowan city, I agree to give evidence (5)
7. In the style of Navy intelligence man Turing (4)
8. Long to stop an effect of the moon (5)
10. No fool with gold and capital in the Caribbean (6)
15. Soviet-era letters and 75 furs on top of piano (4, abbr.)
16. Return a weaving machine for money (5)
17. Place to do research about minute part of a lock (4)
18. Revolutionary is almost federal agent (5)
19. First third of Churchill manuscript (5)
22. That guy's going to hit Louie's head (2'2)
23. I thought Shakspearean-style meter confused Ed Meese (4)
25. Writer Kingsley has to leave (6)
29. Director Scott is real lazy? Yes (6)
30. Slaw'd spoiled (4'1)
32. More than one plum ski area's ignoring age (5)
34. Return and echo memo incorrectly (4)
35. Hal, when wet, endlessly upset snakelike fish (4)
36. 100,000 ents will ensnare radical actor Richard (4)
37. Plate is kind of semicircular? (4)