Note: This is a slightly revised version of the cryptic I brought to the 2002 American Crossword Puzzle Tournament in Stamford, CT; this version originally appeared in the April 2004 edition of the Enigma, the main publication of the National Puzzlers' League. "En's stunning victory" in the instructions refers to Ellen Ripstein ("En")'s much-hailed victory in the 2001 ACPT.
The tags "[NI2]" and "[NI3]" are standard notation in the NPL; they indicate words that are in Merriam-Webster's second/third New International Dictionary but not in their current Collegiate Dictionary.
---
Lights, Camera, Redaction
by Kevin Wald
I wrote this puzzle for the 2002 American Crossword Puzzle Tournament at Stamford. Given that it was the 25th annual tournament, and given En's stunning victory the previous year, it's no wonder there were people filming documentaries there. They were even trying to interview the Across answers in this puzzle. However, they had to spend a lot of time in the editing room, because one third of those answers hid their faces from the cameras, while another third got really hammy; the remaining third behaved normally, because they have a clue (complete with enumeration). The final answer is a term appropriate both to the theme of this puzzle, and to that particular tournament.
Altered entries include one NI2 word and one NI3 word (both 10C-inferable), and one alternative spelling.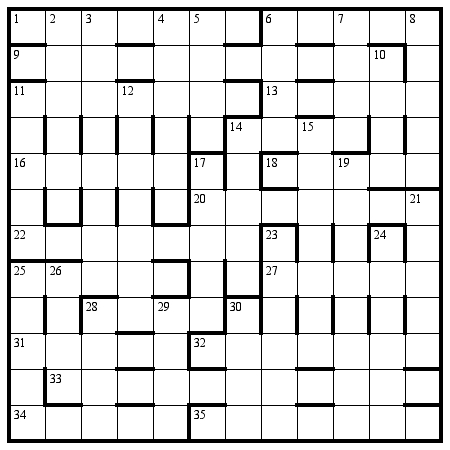 ACROSS
1. King leaves raincoats for some duffers
6. At no time is Ms. Campbell right
9. And I put it all wrong, being prone to cliché
11. Roosevelt has a barn demolished
13. Shining tin I'd shaped
14. Helps muscular group to capture alien
16. Discussed giant woodsman's foot problem
18. The author's mostly vacuous
20. Gets white sandy regions to surround lake
22. Said boy is the star of High Noon?
25. We Oaklanders train a notoriously sneaky animal
27. One guy is beheaded
28. Once-living rock that's gotten red!
31. About what's next to do
32. Outward appearance of the Big Kahuna?
33. Go around with cad
34. Five hundred dollars, to start with
35. Freight vehicles steer around impeding obstructions
DOWN
2. A cat inhales argon and it speaks (6)
3. Slowpoke at the center of Londinium upset Romans, among others (8)
4. Scottish leader supports English with fossil fuel (6)
5. Herbs that cure regrets (4)
6. Anaïs eventually initiated three threesomes (4)
7. Victory by small vessels (4)
8. Not blanching, Giuliani embraces Democrat (5)
10. Neeson's send-up (4)
11. Travels around French city (5)
12. One who tramps south with lumberjack (7)
14. Bugs eats last of root vegetables (5)
15. Mark is second to achieve knockout in fight (4 3)
17. Artificially leatherized hides containing C3H5– (5)
19. Asian tributary contributes to king hag harasses (8)
21. Detect zinc-cored coins by sound (5)
23. Deity who keeps hammer and hatchet in chest (6)
24. Operated company with real hostility (6)
25. Put bone in brine mixture (5) [NI2]
26. A wildebeest bellowed once more (4)
28. They regulate workplace safety, doughnuts, and laughter (4, abbr.)
29. One joined in, full of wonder (4)
30. Blue book, oddly, is swelling (4)