This originally appeared in the October 2001 Enigma; many thanks to Hot and Trazom for their editing. The abbreviations 10C, NI2, and NI3, as usual in the National Puzzlers' League, refer to the (Merriam-Webster) 10th Collegiate and 2nd/3rd New International Dictionary.
---
Harry Potter and the Various Objects
by Ucaoimhu
Six magic objects are visually described in the unclued entries here. You must find these objects in the grid; they can be distinguished from ordinary, non-magic objects because each one is using its amazing transformative powers to disguise another item. When the magic objects have been picked out, these six additional items (common, uncapitalized 10C nouns) will appear; they can be assembled (in the same order as the corresponding magic objects) into this mysterious passage from an alchemist's notebook:
_____ _____ : _____, _____, & _____ _____
Properly interpreted, this passage will lead you to . . . secret stuff.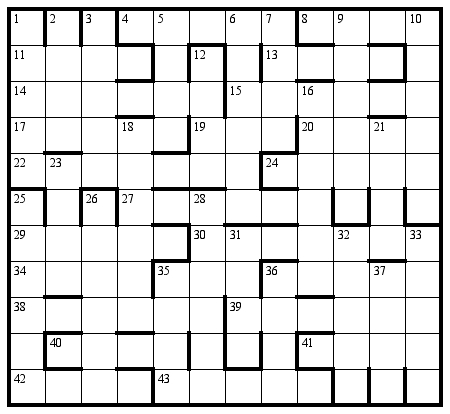 ACROSS
4. Guy receives "Yes" about Irish author (5)
8. I relinquish unfinished and finished pastry (4)
11. Voice he would obey (4)
13. Isolated nitrogen-free substance used in lotions (4)
14. Mexican region is 0.1 by 10.1 by 100.1 (6)
15. Bow before hard-working Athenian magistrate (6)
17. Object 1
19. Object 2
20. Object 3
22. Antelopes tote hatchets (7)
24. Jinx ought to leave path (5)
27. Segment, taking first half from second! (6)
29. German woman meets Dutch phony (5)
30. Ruined a ten-ace series (7)
34. Object 4
35. Object 5
36. Object 6
38. Agent with dash, spirit, and energy (6)
39. On-line puzzler is dimness personified? (6)
40. Write about little shock (4)
41. Leave sucker yelling (4)
42. Note: New York is very, very small (4)
43. Start fracturing stone (5)
DOWN
1. Ox has injured member of Bantu tribe (5)
2. Common French name for cotton fabric (4)
3. Sextet had to protect former companion (5) [NI3]
5. Formerly chilled without electric current (4)
6. Reportedly scratches part of contract (6)
7. Wild West lawman shot pear (4)
9. Roosevelt ought to face this Latin revolutionary band (6)
10. Fool upset the old king with head-toss (6)
12. Breed for speed (4)
16. Heard someone sniping, "He uses a slide" (6) [NI2]
18. Kurasawa started a big, endlessly captivating, British-Japanese drama (6)
21. Cossack shows off bones (4)
23. Pair assumes real to be peso (4)
25. Cause amphibian to eat Iron Chef's entree (6)
26. Can say "normal proactive paradigms," perhaps (6)
28. Observed to circumvent creditor in disguise (6)
31. Help ex-prez with tension (4)
32. In no sub-moral way, ultimately! (5)
33. Heartlessly ends conjugal relations in English county (5)
35. Aware of the interior of Monte Carlo at last (4)
36. Poetry's always about North American tribesman (4)
37. Plead with rear to get fat (4)